Back To Menu
WOODY'S LOCAL FAVORITES
$17
MAHI MAHI TACOS OR CRISPY COD TACOS
Grilled, shredded cabbage, Pico de Gallo, Spanish rice, black beans, avocado-cilantro creme fraiche
Tacos (Select 1):
Mahi Mahi Tacos
Crispy Cod Tacos
Dinner Sides (Optional):
Grilled Asparagus
Butter Charred Brussel Sprouts
Baked potato
Bacon Mac & Cheese
Broccoli
Roasted Garlic Mashed Potatoes
Rice Pilaf
Seasonal Vegetables
Sweet Potato Fries
Tater Tots
Have you tried this item? Pop it!
Help other diners know what to expect by sharing your experience.
2 people have popped this item
Photo Gallery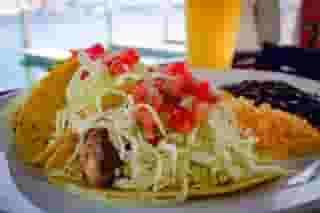 Back To Menu
WOODY'S LOCAL FAVORITES
$17
MAHI MAHI TACOS OR CRISPY COD TACOS
Grilled, shredded cabbage, Pico de Gallo, Spanish rice, black beans, avocado-cilantro creme fraiche
Tacos (Select 1):
Mahi Mahi Tacos
Crispy Cod Tacos
Dinner Sides (Optional):
Grilled Asparagus
Butter Charred Brussel Sprouts
Baked potato
Bacon Mac & Cheese
Broccoli
Roasted Garlic Mashed Potatoes
Rice Pilaf
Seasonal Vegetables
Sweet Potato Fries
Tater Tots
  Back To Menu